Description
Product Description:
To put it simply: It is a closed type, all the rapeseed ATEX ex-proof generator that seals all possible sparks. It is in a hazardous environment such as: there are flammable and explosive (coal mines, gas stations, oil refineries, flour, cotton and linen processing plants and other dangerous places) places must use diesel generator sets, in order to produce safely, it is necessary to use explosion proof air compressor. Explosion-proof diesel generator sets cannot emit an ignition star and cannot generate sparks. The high-temperature exhaust pipe must be treated with asbestos. The users who have strict requirements must also have a fire-proof and cooling isolation device. Kingway has a wide range of option of high quality and reasonable price LPG generator set. We're a leading company in this industry, we provide various generator sets for farms and agricultural industry, data centers, hospitals, manufacturing centers, quarries, mines, telecommunications, hotels, rural homes and other application.
---
| Equipment: | ATEX 60KVA Explosion-proof Diesel Engine Genset |
| --- | --- |
| Directive : | 2014/34/UE-ATEX |
| Standard: | EN 60079 series / EN 1834 series / EN 1755 |
| Convert to: | Group II Equipment, Category 3G ( ZONE 2 IIB T3 Gc ) |
---
Diesel driven generator sets for applications in Hazardous Area ( Zone 2 ) mounted in the DNV certified 2.7-1 Skid frame enclosure producing 60KVA @ 0.8 pf,400VAC, 3 Phase +Neutral, 50HZ Output
Quality & Compliance:
The Ex product will follow the ATEX standard EN 60079 series and EN 1834 series ,and will give a《DECLARATION OF CONFORMITY》which is signed by the manufacturer according to the ATEX Standard EN 1834-1.
---
MODEL
EADG60-EX2
COMPLETE MACHINE
Explosion-proof Mark
 #II 3G IIB T3 Gc
Hazardous Zone
ZONE 2
Certificate
《Declaration of conformity》
Typical generating set output (0.8 pf 25ºC)
60KVA 380V /50HZ
Max. Working Angle
15°
Noise Sound Level (±3 dBA at 7m)
75
Machine Weight (kg)
2500 (dry)
Dimensions: L x W x H mm
3412X2200X2256
Fuel tank
>300L
DIESEL ENGINE
Manufacturer
CUMMINS
Model
6BT5.9-G2
Governed Speed (rpm)
1500/1800
Prime Power (kW)
96kW@1500rpm
Displacement (L)
5.9
No. of cylinders
6
Engine Oil Capacity (L)
18
Electrical System Voltage (V)
24
Rated Capacity of Battery
120Ah/ea
GENERATORS
Manufacturer
Kingway OEM
Explosion-proof Mark
 # II 3G Ex nA IIB T3 IP54
Certificate number
《Declaration of conformity》
Hazardous Zone
ZONE 2
Ambient temperature
-25℃~ +60℃
Altitude
≤1000M
Rated Voltage
380V(50HZ)
Rated Frequency
50HZ
Rated REV
1500RPM
Power Factor
0.8 LAG
Operation
Continuous (S1)
IP Grade
IP66
Controller
ComAp MRS16
ZONE 2 EX-GENSET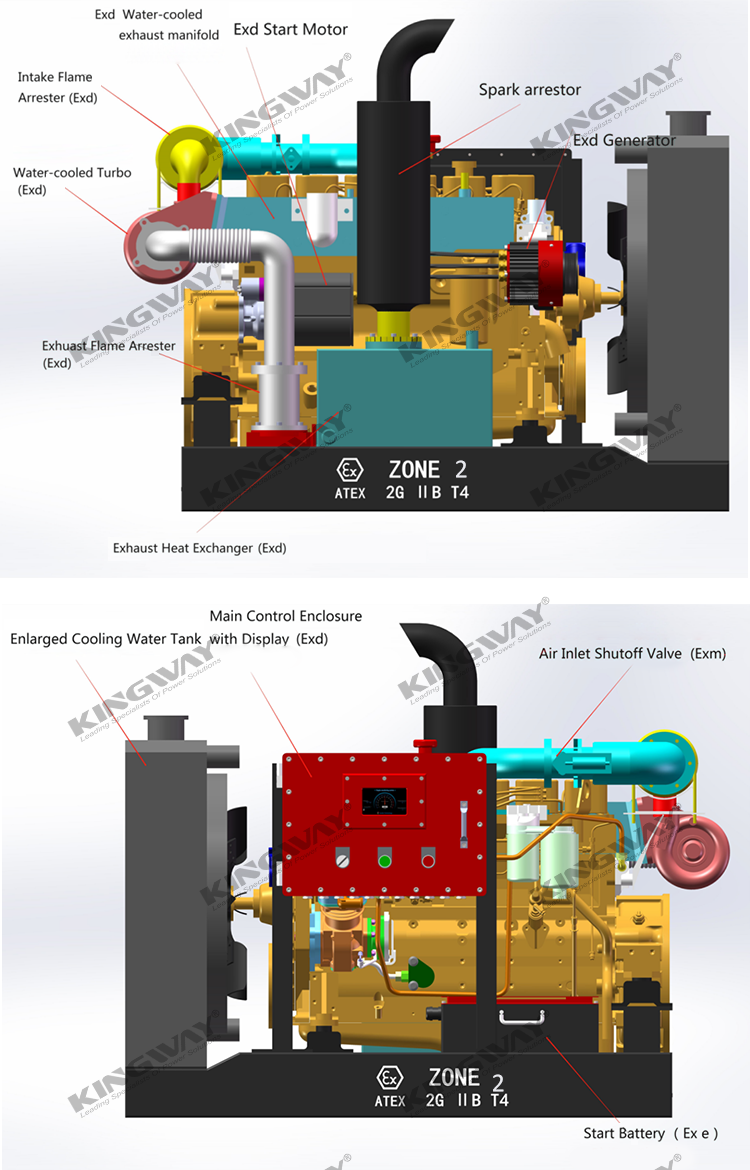 ZONE 2 EX-GENERATOR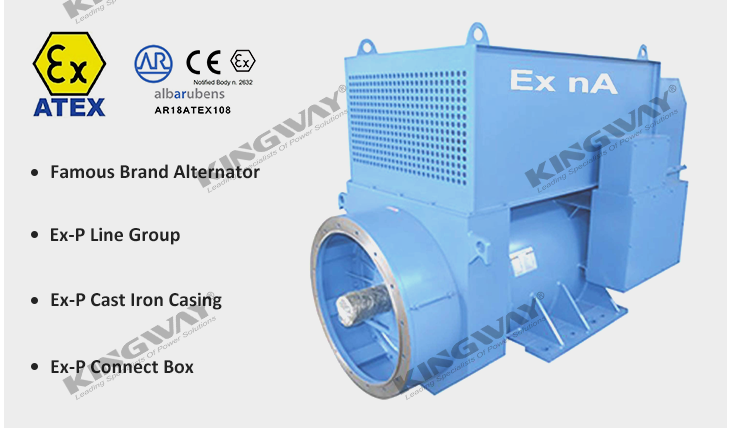 EX CONTROL PART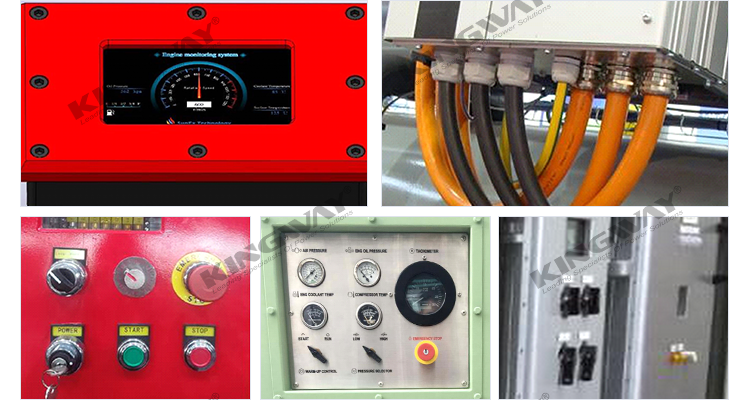 ZONE 2 EX-AIR COMPRESSOR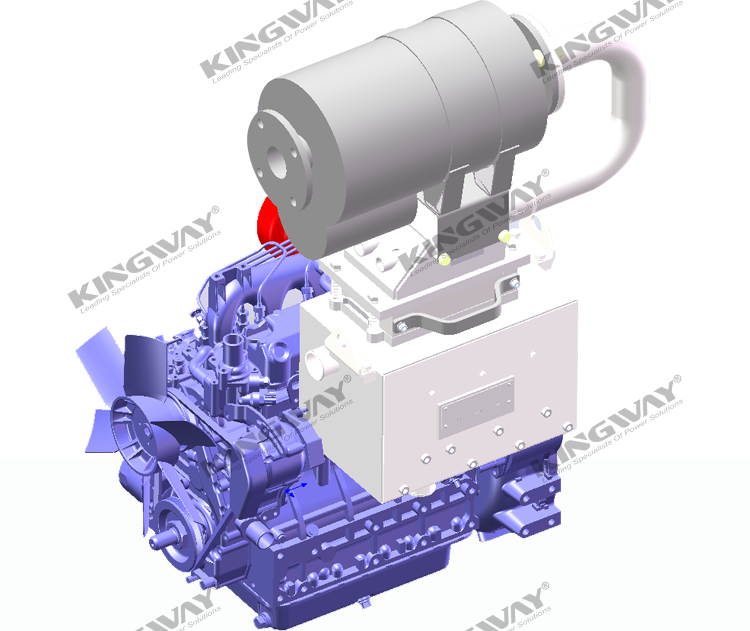 DNV 2.7-3 CERTIFIED SKID LIFTING FRAME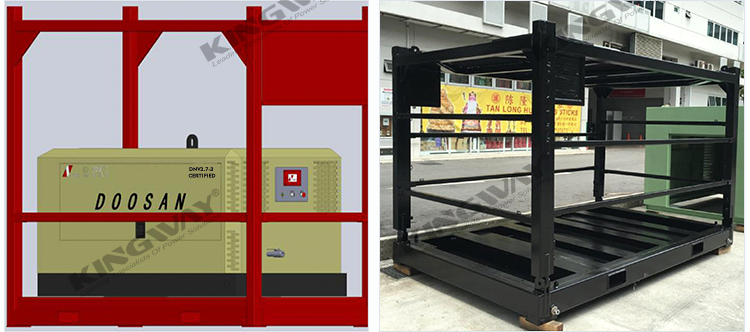 PRODUCT DISPLAY